NRV 911 Participates in 2017 EFFORT Event
Area first responders joined forces to develop a program focusing on our community of individuals with disabilities.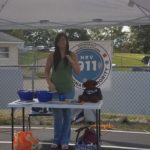 Members of NRV 911 staff attended E.F.F.O.R.T. (Enabling Friends For Our Response Teams) on July 8th at the Christiansburg High School. Working together with Montgomery County Sherriff's Office, we provided opportunities for the community to learn how to use 911. While meeting with, and educating, the public about how to use 911, we gave out educational coloring books, crayons, and pencils printed with our non-emergency phone number.
911 staff provided caregivers and loved ones a chance to ask questions about using 911. In addition we collected information about their child so that data could be cross referenced in our CAD (computer aided dispatch) system in order to provide details to our first responders. To fill out the form online please click here.
View the WDBJ7 news coverage here.
More pictures of the EFFORT event can be found on the Montgomery County Sheriff's Office Facebook page.